In both design and operation, the award-winning Kap Europa is sustainable through and through.
Kap Europa was the first convention building to be awarded Platinum Certification by the German Sustainable Building Council (DGNB). Many components contributed to this. On this page, we will present them to you.
Special construction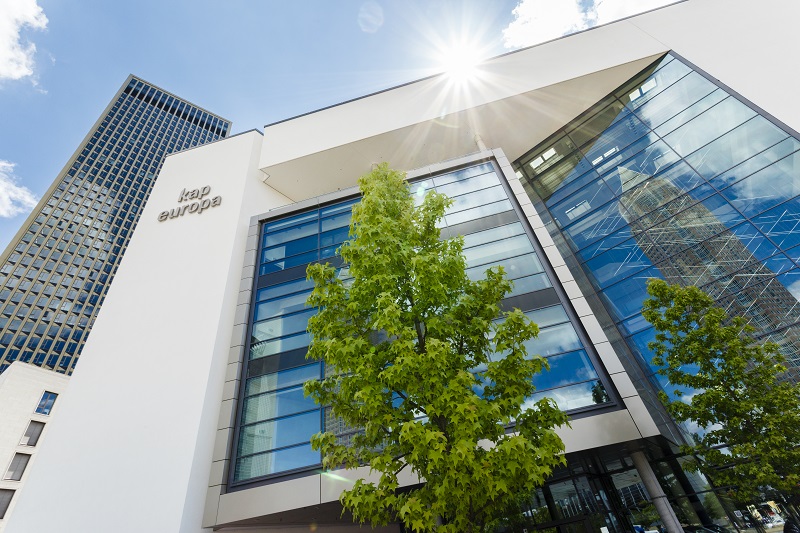 Building and materials: In the building and finishing, all materials and building materials were tested for their environmental compatibility and emission values. Most of the wood which has been used is regional.
Use of space: Effective use is made of the gross volume of the building. Through the elimination of wasted space, the ratio of the used to the overall volume of the building is optimised.
Concrete core: The concrete core is used for night cooling (of the building) and relieve the load on the air-conditioning system.
Facades and windows: Foyers lit by natural daylight as well as energy optimised window fronts and facades reduce energy consumption and, at the same time, create an inviting atmosphere which leads to an increased quality of stay.
Greenery covered roof: the 1,000 m² roof which is covered with greenery improves the CO2 footprint.
Components: Through the use of water-saving plumbing fixtures, LED luminaires and intelligent lighting controllers, the depletion of fossil energy sources is reduced.
Sound proofing: Sound proofing and speech quality are significantly above the average requirements.
Location and networking: Kap Europa promotes eco-friendly mobility: with easy access to public transport, hotels within walking distance and onsite bicycle stands.
Sustainable operation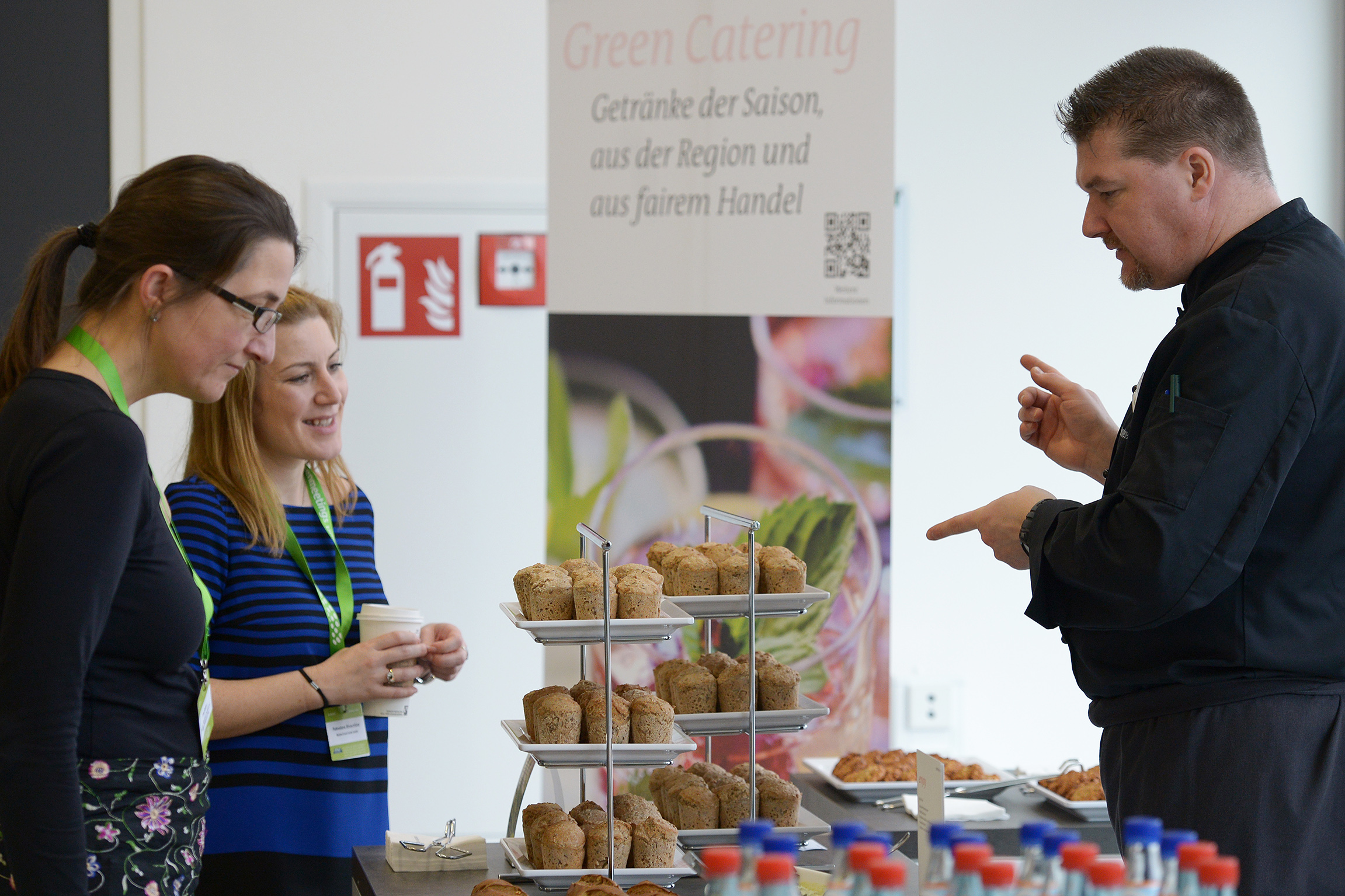 Sustainable catering: Accente uses primarily fresh produce from regional suppliers from the Rheingau, Taunus and Rhein-Main regions as well as certified organic produce. Importance is placed on the least possible use of disposable/non-returnable packaging and food containing colours, preservatives or additives. Furthermore, most of the equipment is also resource friendly.
Technical equipment: Thanks to the recent acquisition of energy-efficient devices as well as the development of new resource-sparing solutions,  we are a pioneer in the provision of ecologically sound equipment with our partner Gahrens + Battermann.
Green electricity: The Kap Europa uses only green electricity from regenerative sources from the company Mainova AG. This also promotes the development of renewable energy sources with a fixed price per kilowatt hour. Find out more on: Grüner Strom Label e.V.
Cleaning: The cleaning agents used adhere to all environmental protection aspects particularly with view to the use of fault free and renewable raw materials and biodegradability.
Light installation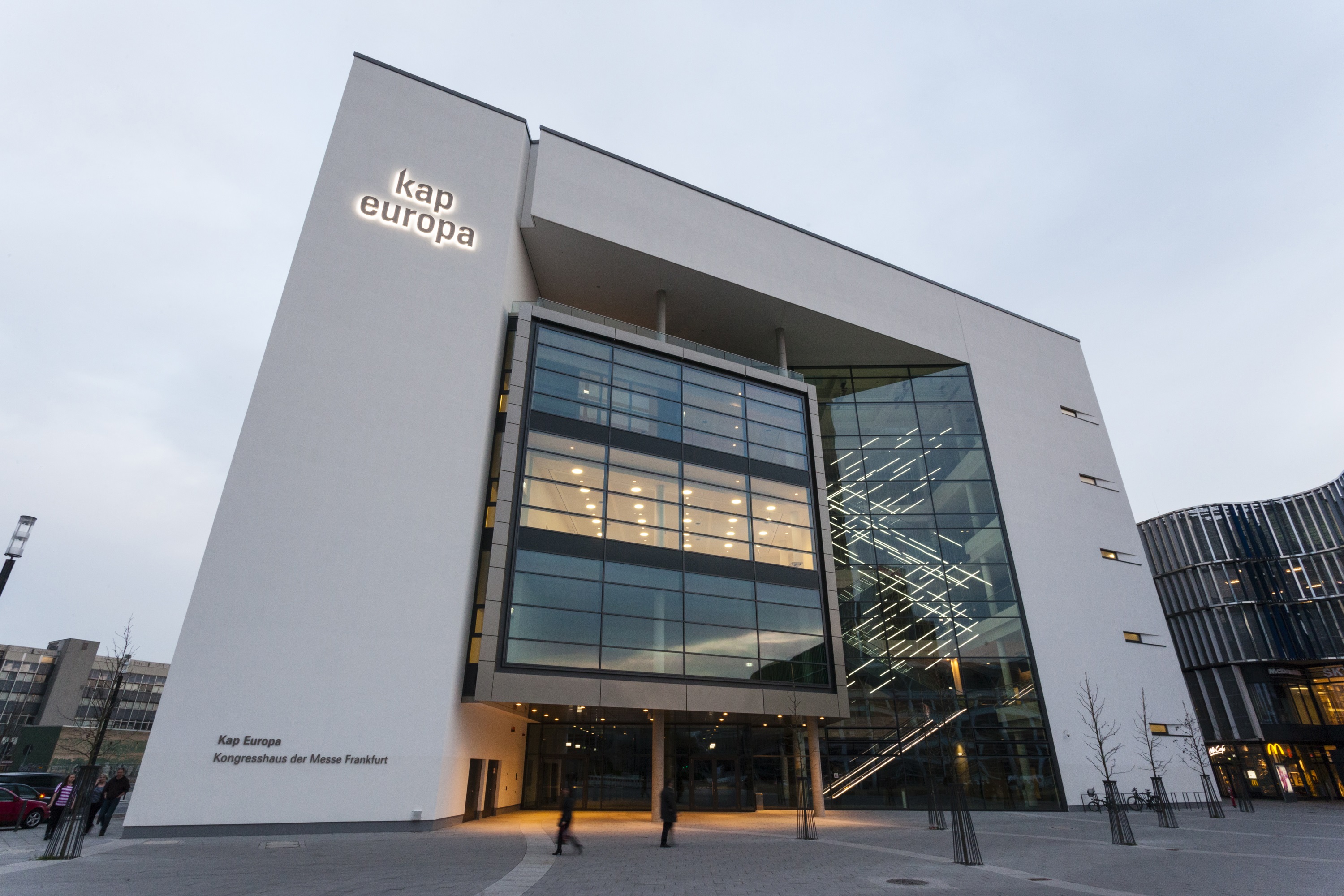 Cultural components: The incorporation of fine art in the room design was one of the criteria for receiving the DGNB certificate. The light installation "Crossover" by Berlin artist Barbara Trautmann was selected by means of a competition.