Energy efficiency and green power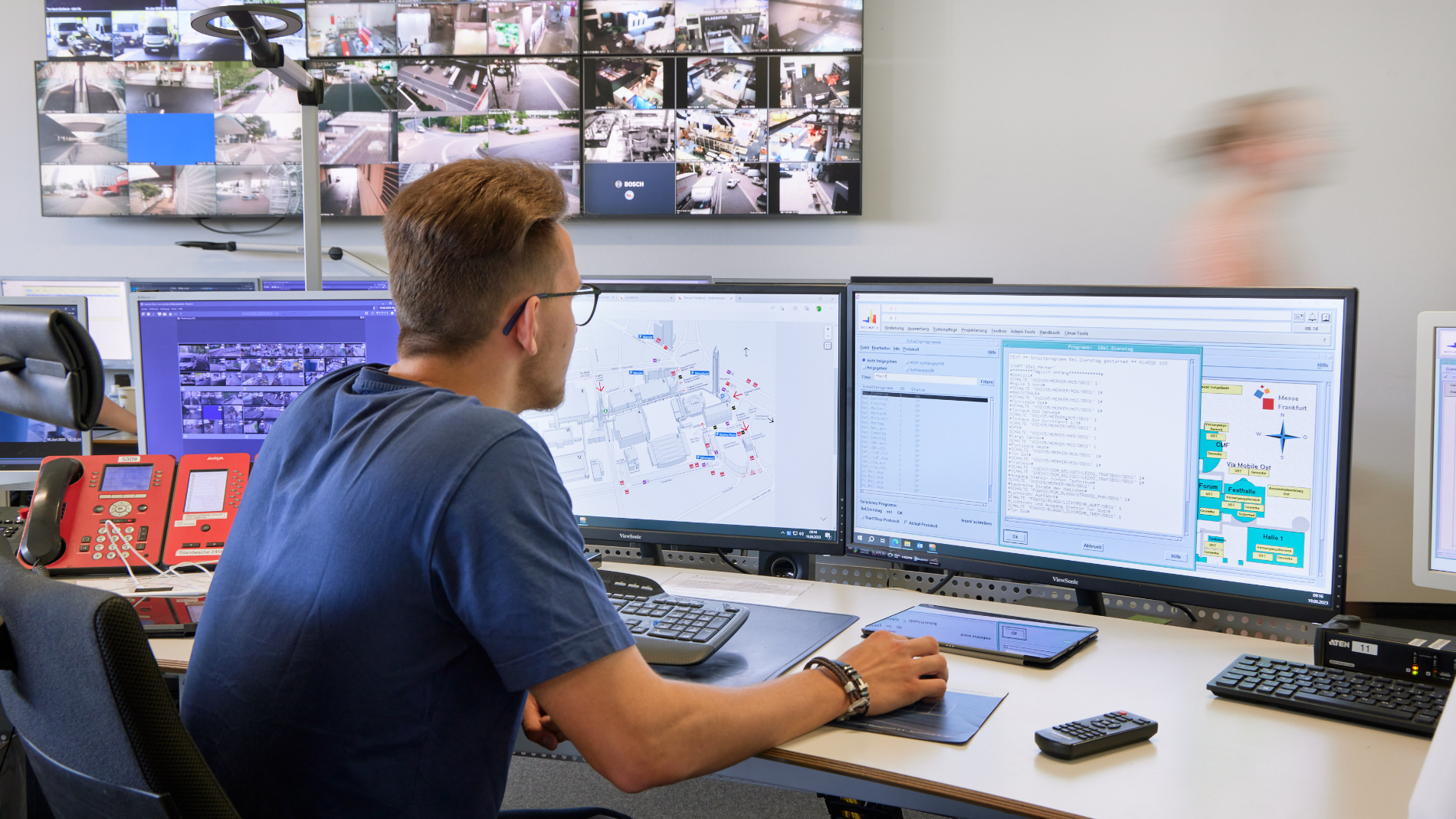 Continually reducing energy consumption on our Frankfurt exhibition grounds is a fixed component of our sustainability management system, which is geared towards ongoing improvement. Since 2014, Messe Frankfurt has reduced its base electricity load by around 30 percent. We have achieved this through efficient technologies, by avoiding unnecessary consumption and by our employees playing an active role. As a rule, light is used where it is actually needed. Our Operation & Security Center, which is staffed around the clock, manages needs-based lighting throughout the exhibition grounds and in the buildings.
100 percent renewable energy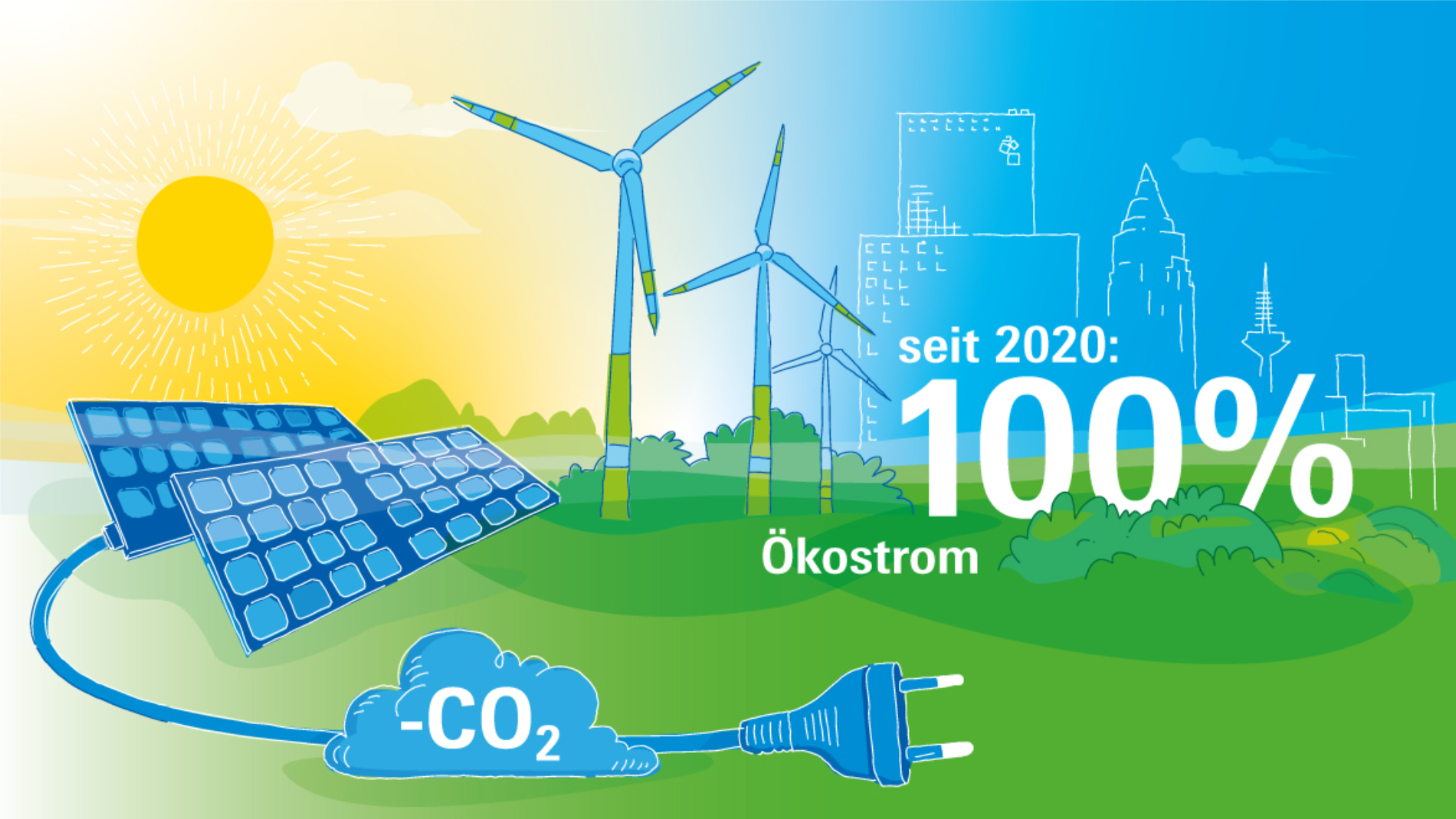 Our Frankfurt base has been running entirely on green power since 2020. This allows us to avoid some 19,000 tonnes of CO2  a year – to offset this amount, it would have been necessary to plant 1.52 million trees. As of 2024, we will also have a clearly defined guarantee of origin for our green power: the electricity will be coming from the wind farm in Wilhelmshafen, Saalekreis and near Cologne and from the Boitzenburger Land solar farm between Berlin and Stettin. In the long term, a further 30 percent of Messe Frankfurt's energy requirements are to be covered by wind energy.
Networking for greater climate protection
Messe Frankfurt is a member of the Business Energy Efficiency Network, which is part of the IEEKN energy efficiency and climate protection networks initiative.
Networking for greater climate protection
Messe Frankfurt is a member of the Business Energy Efficiency Network, which is part of the IEEKN energy efficiency and climate protection networks initiative.
New business energy efficiency network in Hesse: EnergieGemeinschaft RheinMain
Climate-neutral solar power from our roofs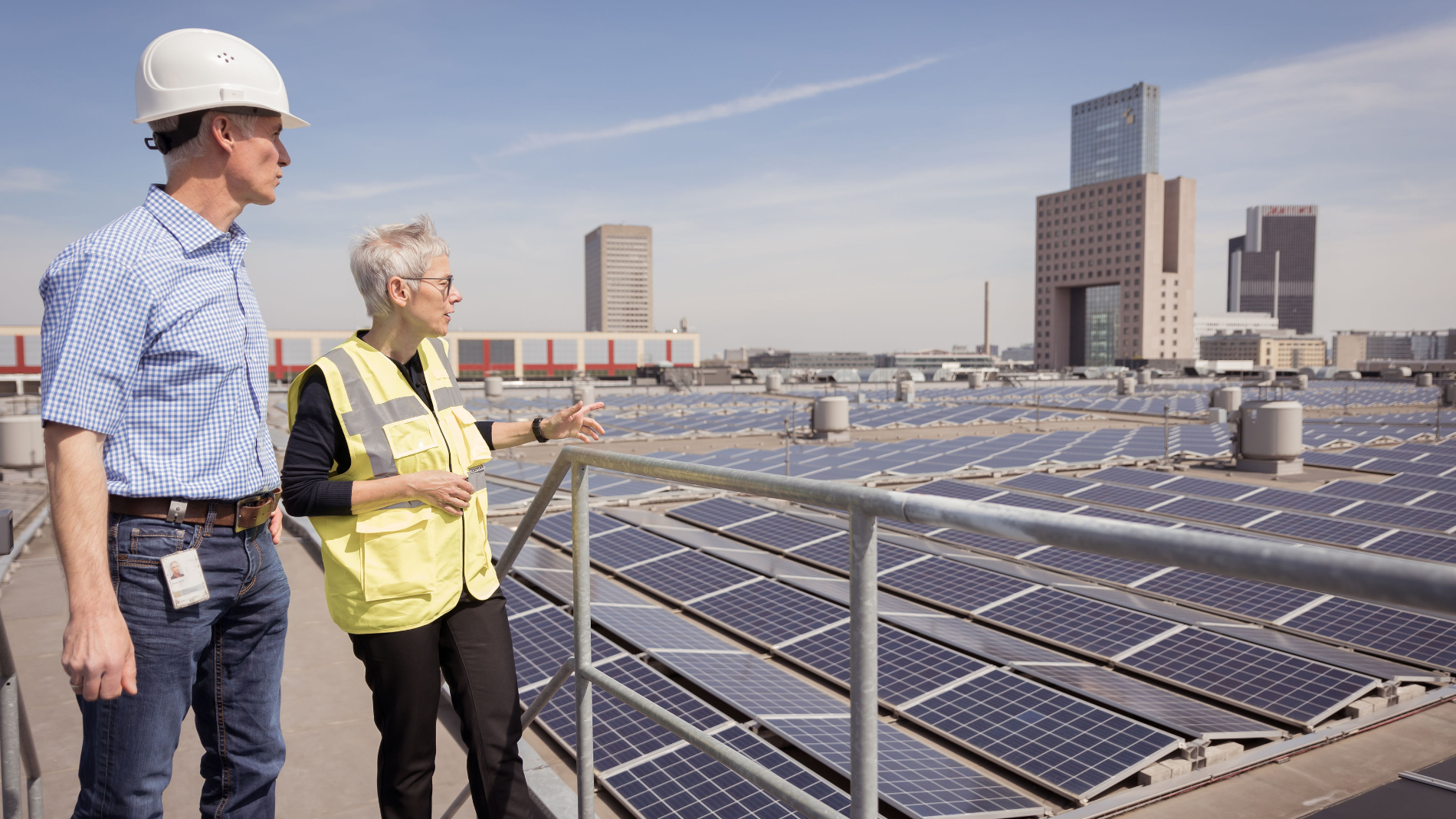 Our current three photovoltaic systems harvest around 2.4 GWh of solar energy (2021) and allow us to avoid around 1,200 tonnes of CO2 every year. Even on its own, the solar power system on the roof of Hall 12 measures around 9,000 square metres and is fitted with 5,300 solar modules. Messe Frankfurt uses all the power it harvests for its exhibition grounds.
By the way: in 2009, Messe Frankfurt set up its first major solar power system on the roof of Hall 10 – this was owned by local citizens and employees.

Protecting resources: Saving drinking water, avoiding and recycling waste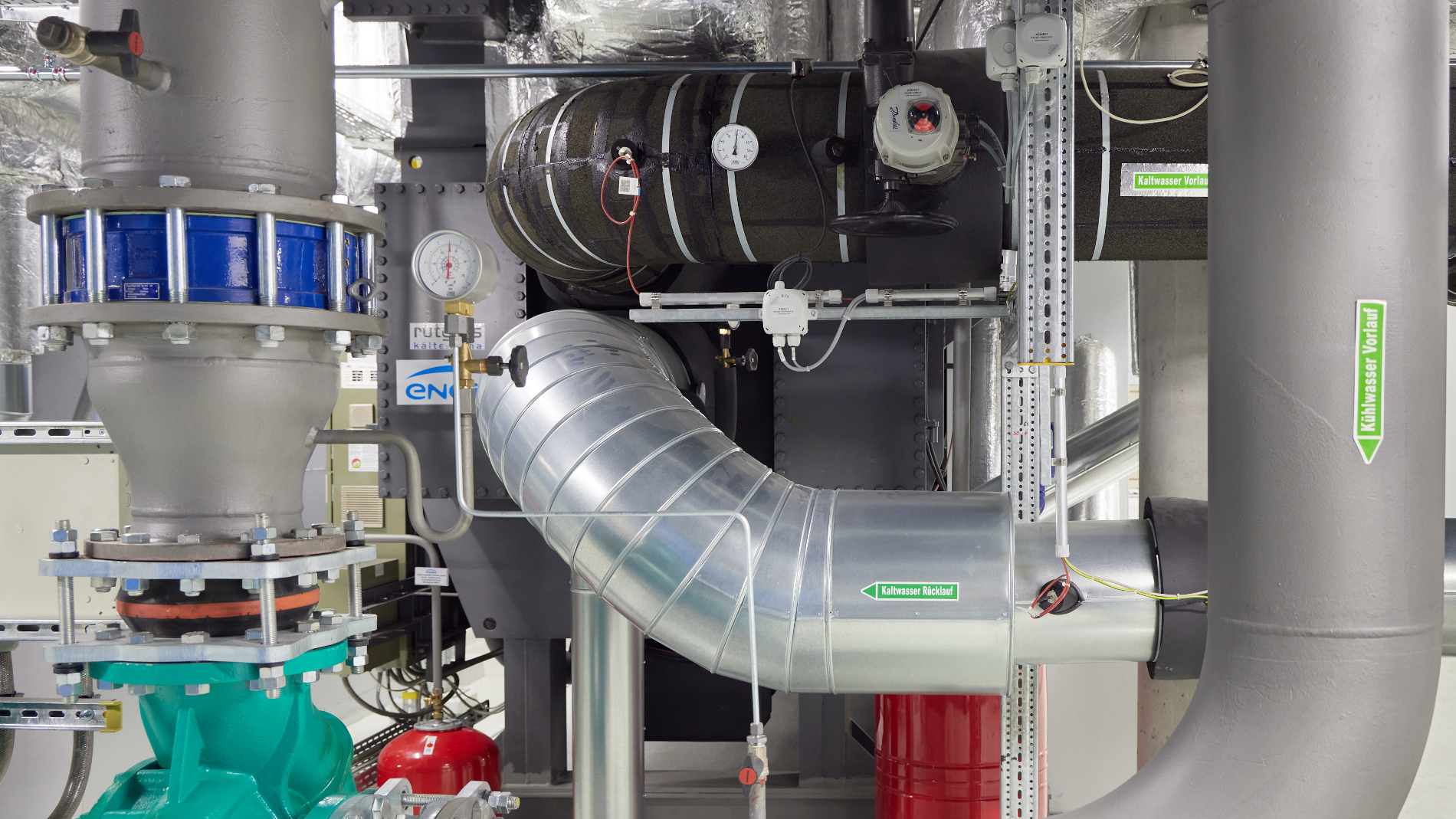 By adding Messe Frankfurt to Mainova's district heating network, the exhibition grounds are both heated and cooled in an efficient and environmental friendly way. State-of-the-art technical facilities reduce water in the cooling systems. We use rainwater for flushing the toilet facilities, saving around seven litres of fresh water with each flush. Our cleaning agents come from certified producers and are free from microplastics. And our green areas are irrigated with rainwater.
In keeping with the principles of closed-loop recycling management, all waste on the Frankfurt exhibition grounds is sent for material or energy recovery. Over 90 percent of waste is either recycled or reused. Messe Frankfurt already had an efficient recycling management system in place back in the early 1990s. Meinhardt Stadtreinigung GmbH & Co. KG has been our waste disposal partner right from the earliest days. It is certified in accordance with the Ordinance on Specialised Waste Management Companies (EfbV) and with EN ISO 9001:2015 and is also subject to the controls of the Regional Administrative Authority in Darmstadt. Another of our waste disposal partners is Frankfurter Entsorgungs- und Service GmbH (FES).
Did you know?
We provide exhibiting companies with hands-on tips from our waste consultants.
When choosing service providers for printing and publications, we also ensure that existing and potential partner companies are FSC-certified.

Mobile and environmentally friendly
A fast, convenient and environmentally friendly way to travel. The "Messe" suburban rail station is located in the centre of the exhibition grounds, while the underground train (U-Bahn) and tram stations are found directly at the City Entrance/Festhalle. The Central Station can be reached on foot.
Participants in our Group events can use their admission tickets to travel free on public transport within the entire fare zone – and have been able to do so for over twenty years.
Incidentally, Messe Frankfurt will provide your employees with a free job ticket at its Frankfurt base, which entitles them to use public transport throughout the entire RMV area.
Travelling to Messe Frankfurt
Climate-friendly power from the socket
In line with the needs of our customers, employees and service providers, there are numerous charging stations available throughout the Messe Frankfurt exhibition grounds, including a high-speed charging station (300 kW).

Avoiding traffic jams and emissions with central traffic management system and logistics centre
Since 2016, Messe Frankfurt has been using a central traffic management system that guides and optimises the flow of traffic at our events. An intelligent routing system helps to avoid long traffic jams around the exhibition grounds.
Real-time traffic control allows logistics, parking and usable space to be used efficiently. This also keeps the environmental impact to an absolute minimum.
Traffic management – smooth traffic flow in and around the exhibition grounds
A bicycle-friendly company
In 2017, Messe Frankfurt was the first trade fair company in Germany to be certified as a bicycle-friendly employer by the FrankfurtRheinMain Regional Authority and cyclists association ADFC Hessen (ADFC). It also received the Bike + Business Award in the same year.
Messe Frankfurt received the certificate in silver in 2022 when the certification was awarded in accordance with the new directives of the EU and ADFC initiative.
Messe Frankfurt offers all of its employees the tax-friendly option of leasing a bicycle of their choice from their gross pay.
Green diversity
An area of 31,000 square metres on our exhibition grounds is not sealed. As well as this, Messe Frankfurt has around 14,000 square metres of near-natural areas, i.e. areas that we designed to promote biological diversity. The dawn redwood (Metasequoia glyptostroboides) is just one of many types of trees on the Frankfurt exhibition grounds. As well as these 32 exotic species, there are a variety of native varieties of trees, bushes and grapevines that actively improve the microclimate within the city. Over the past decades, some 890 trees were planted on every available space, also providing a home for our bee colonies and birds. The green roofs such as those on Hall 5, Kap Europa and the Cargo Center also help to create a positive microclimate.
Sustainability – a key factor for our services too
Paper-free with our online ticketing
We use an entirely digital ticketing system for our Group events. This is also available as an option for guest events.
Stand construction with a system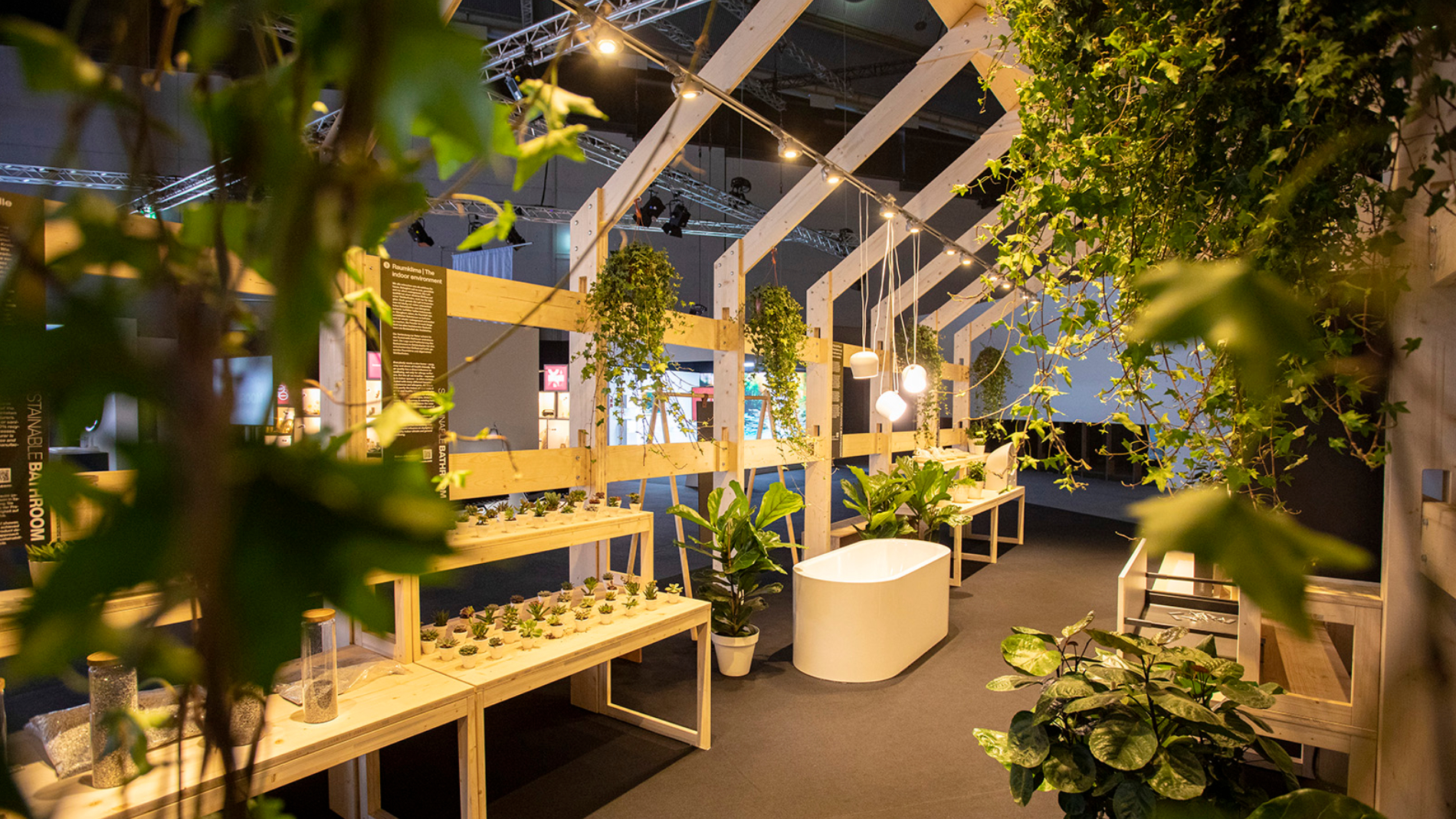 Our Fairconstruction brand is a Messe Frankfurt service that is based directly on the company's exhibition grounds. It is the largest provider of system stand construction systems in Germany. Modular system stands are the ideal basis for sustainable trade fair construction. For us, this means long-lasting materials, designed for multiple re-use, combined with short transport distances to and from regional warehouses (or warehouses based on the exhibition grounds), regional structures and social responsibility.
Did you know?
If all the walls in the trade fair wall system were to be laid flat on top of one another, the pile would be almost 3.5 times as high as the Messeturm tower (256.5 metres) – or, from an international perspective, even higher than the world's tallest building, the Burj Khalifa (829.9 metres).

Catering on the exhibition grounds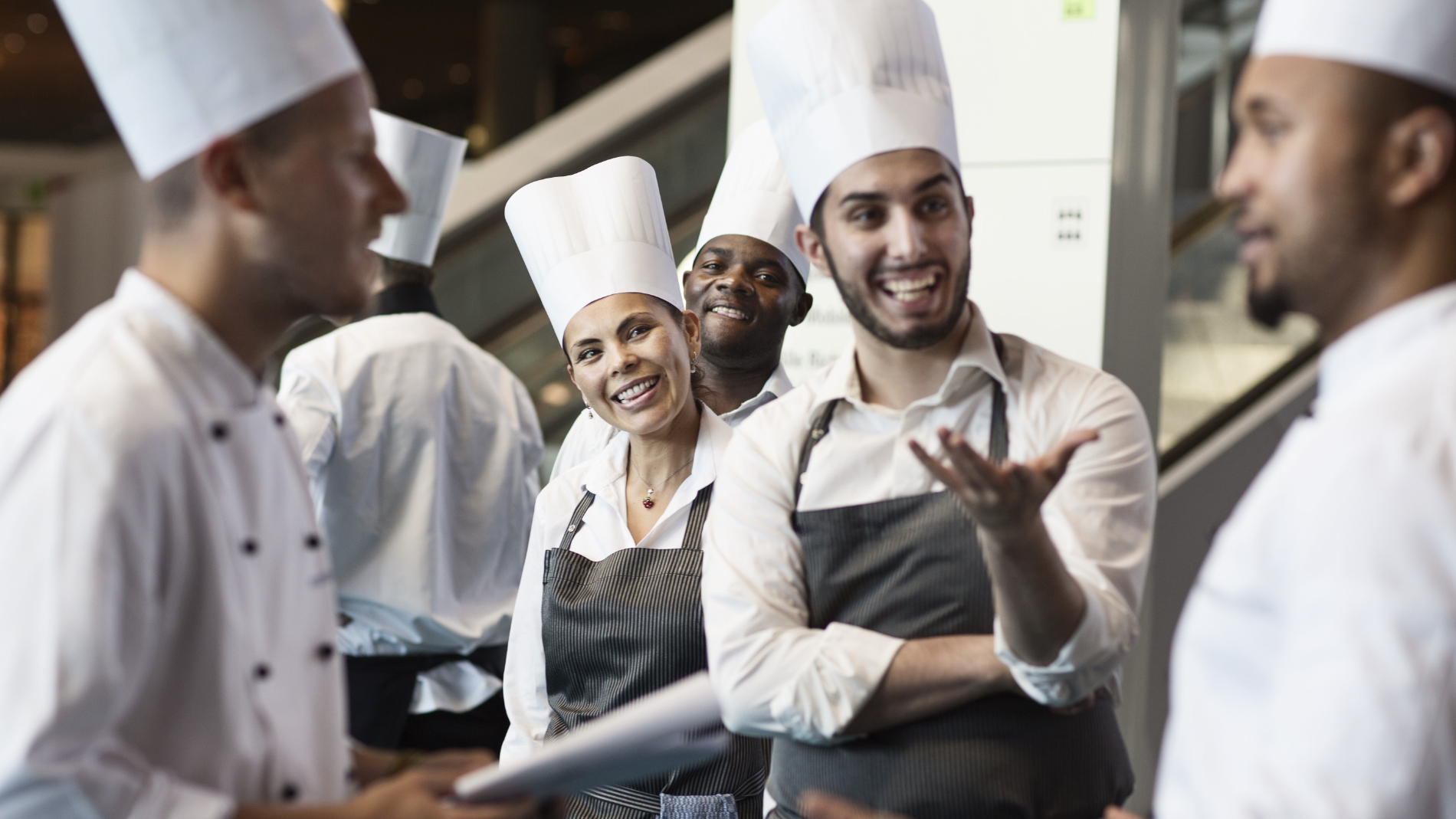 Our subsidiary accente Catering & Hospitality is concentrated directly on our exhibition grounds, meaning that all production, logistics and service channels are short. Accente uses fresh, seasonal products from the local region, including in organic quality. Wherever possible, the company avoids using disposable packaging and food containing dyes, preservatives and additives. As well as this, it uses only reusable dishes or readily biodegradable materials.