Welcome to the CMF, the largest and most versatile conference location in Frankfurt. Capable of accommodating up to 3,400 guests, it is linked directly to all the exhibition halls on the fairground.
Modern, open, bright, practically futuristic: the Congress Center Messe Frankfurt has been completely revamped in 2020. Every aspect of the Congress Center Messe Frankfurt's design has been carefully thought through and its four levels provide plenty of space for successful business events. Among the facilities available are eight comfortable conference and meeting rooms, four offices and a VIP lounge.
Hightlights of the Redesign 2020 at a glance
New interior design:
neutral colour concept throughout (walls, pillars, doors, handrails)
new furniture and new award-winning registration counter

reconditioned marble floor throughout the entrance foyer and new floor coverings in all conference rooms
redesigned restroom facilities
State-of-the-art building technology and equipment:
permanently installed projectors in the conference rooms and projection surfaces instead of screens

new digital signage system including new monitors throughout the Congress Center
expanded network infrastructure
extensively modernized building technology, safety and security equipment
The versatile Harmonie hall  
Measuring 1,800 square metres, the Harmonie hall is the multifunctional heart of the Congress Center in Frankfurt and can adapt to suit all your plans: an auditorium for some 2,200 participants, an accompanying exhibition or a show with a lavish banquet? Configure the hall the way you need it – it is even possible to combine an auditorium with an exhibition: the Harmonie hall fits the bill here with its mobile floor, flexible partitioning and state-of-the-art technology. Harmonie Hall also offers direct access to the pillar-free Hall 5.1. Individual event design at its best!
Flexibly combinable and easy to reach
Congress Center Messe Frankfurt not only offers ample space but also more combination options than any other venue. Thanks to the Via Mobile covered moving walkway, it is connected directly to all halls in the Frankfurt exhibition grounds. By combining the Congress Center with the Forum or the New Hall 5, it is possible to bring to life a wide range of concepts that will make your event unique: a congress with accompanying exhibition, additional breakouts or an unforgettable evening event with a special ambience.
As well as this, Congress Center's reachability is second to none. Located at the heart of Frankfurt with ideal connections to hotels, public transport and parking spaces, and just a ten-minute walk from the Central Station – what better venue for your event? Right next door in the same building complex is the Maritim Hotel Frankfurt with eight hotel floors and 543 rooms.
New registration counter singled out for the German Design Award 2021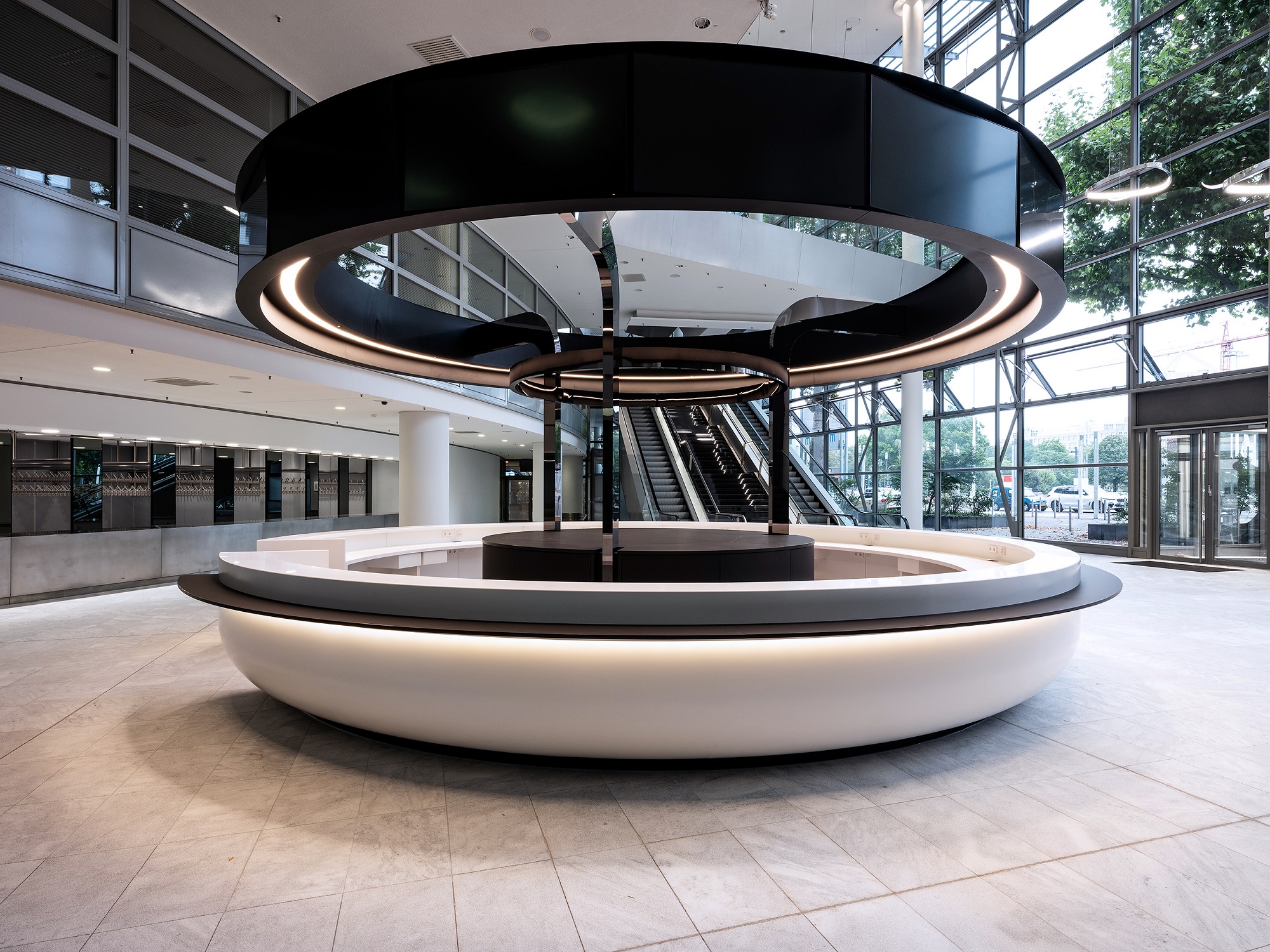 As soon as you enter the Congress Center, prepare to be amazed: the new, round registration counter – which looks like it is suspended in mid-air – is modern, highly communicative and almost futuristic in its design. We are especially proud that it has received a German Design Award "Special Mention" in the Excellent Product Design (Office Furniture) category right off the bat.
The registration counter serves as a central communication hub in the main foyer, facilitating personal interaction in every direction. There are screens that can be customised for individual events, while spotlights and a ring of lights illuminate no fewer than ten workstations.
Read more about the German Design Award
Benefits of the Congress Center for you
Room for 3,400 guests, around 2,200 of which in the large Harmonie hall
Redesign 2020: brand new interior design and the very best equipment and facilities
Can be extended at any time through direct connection with other locations of Messe Frankfurt
Maritim Hotel with eight hotel floors and 543 rooms above the Congress Center
Underground train and tram stop directly outside
Congress Center Impressions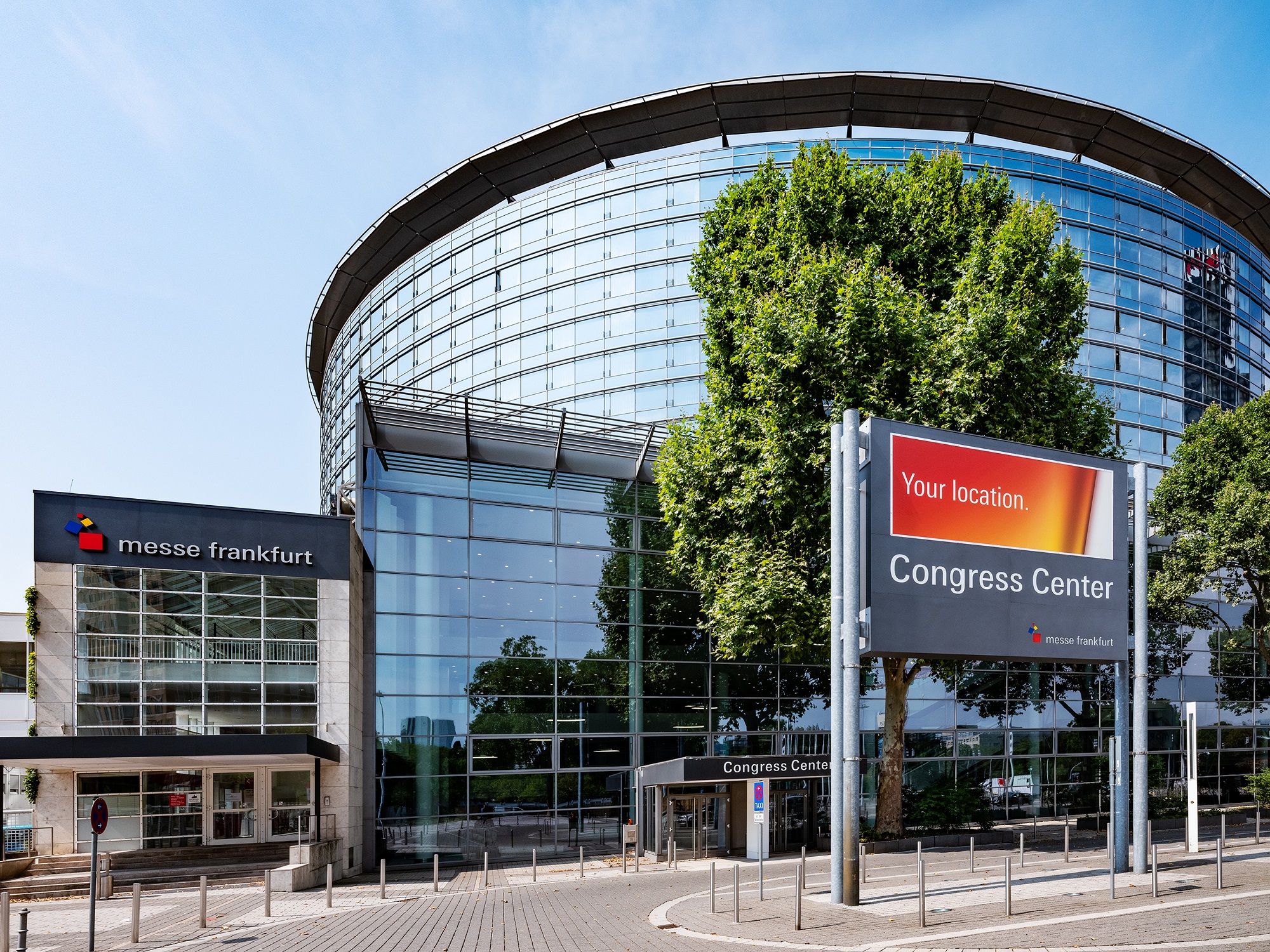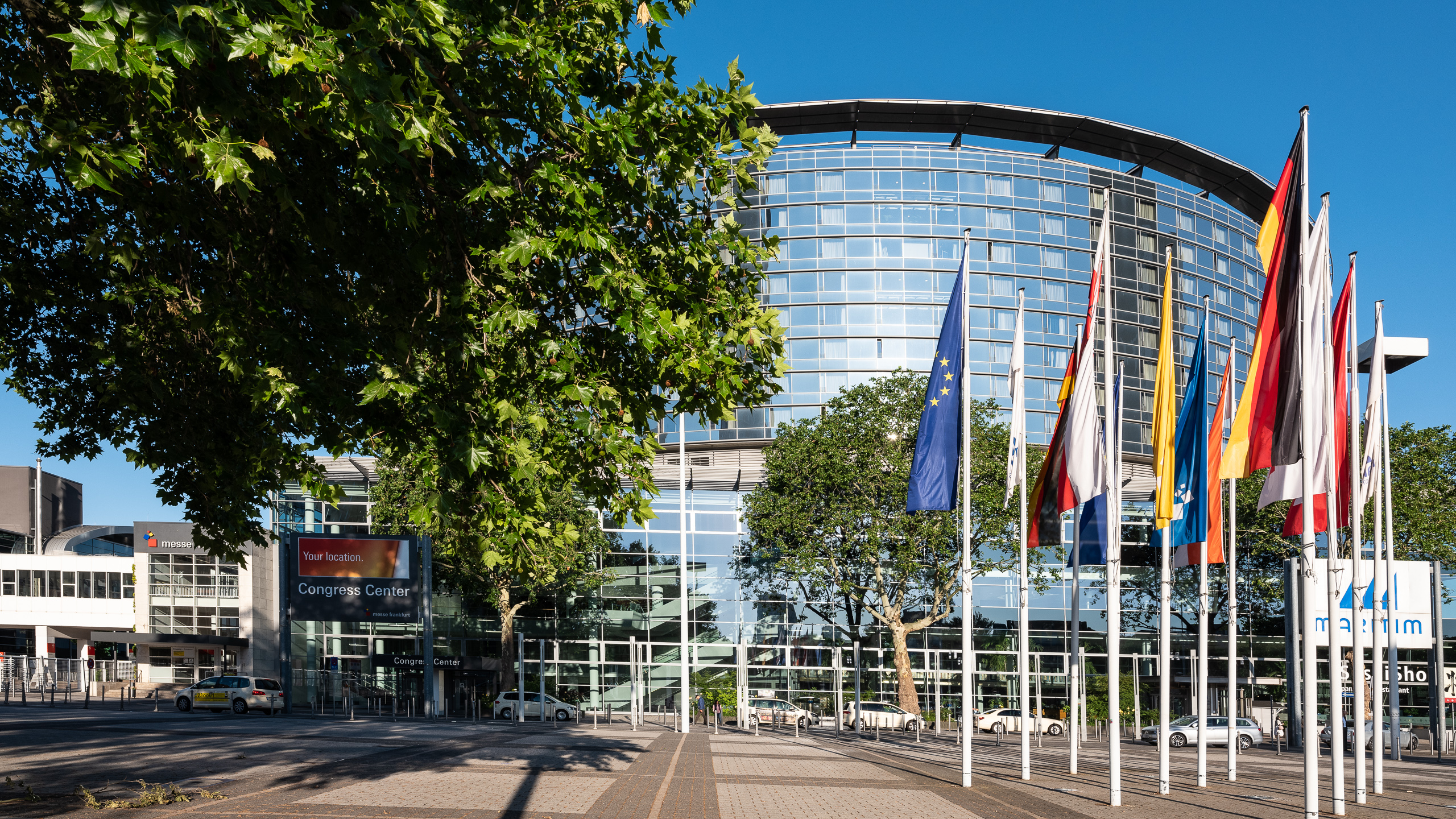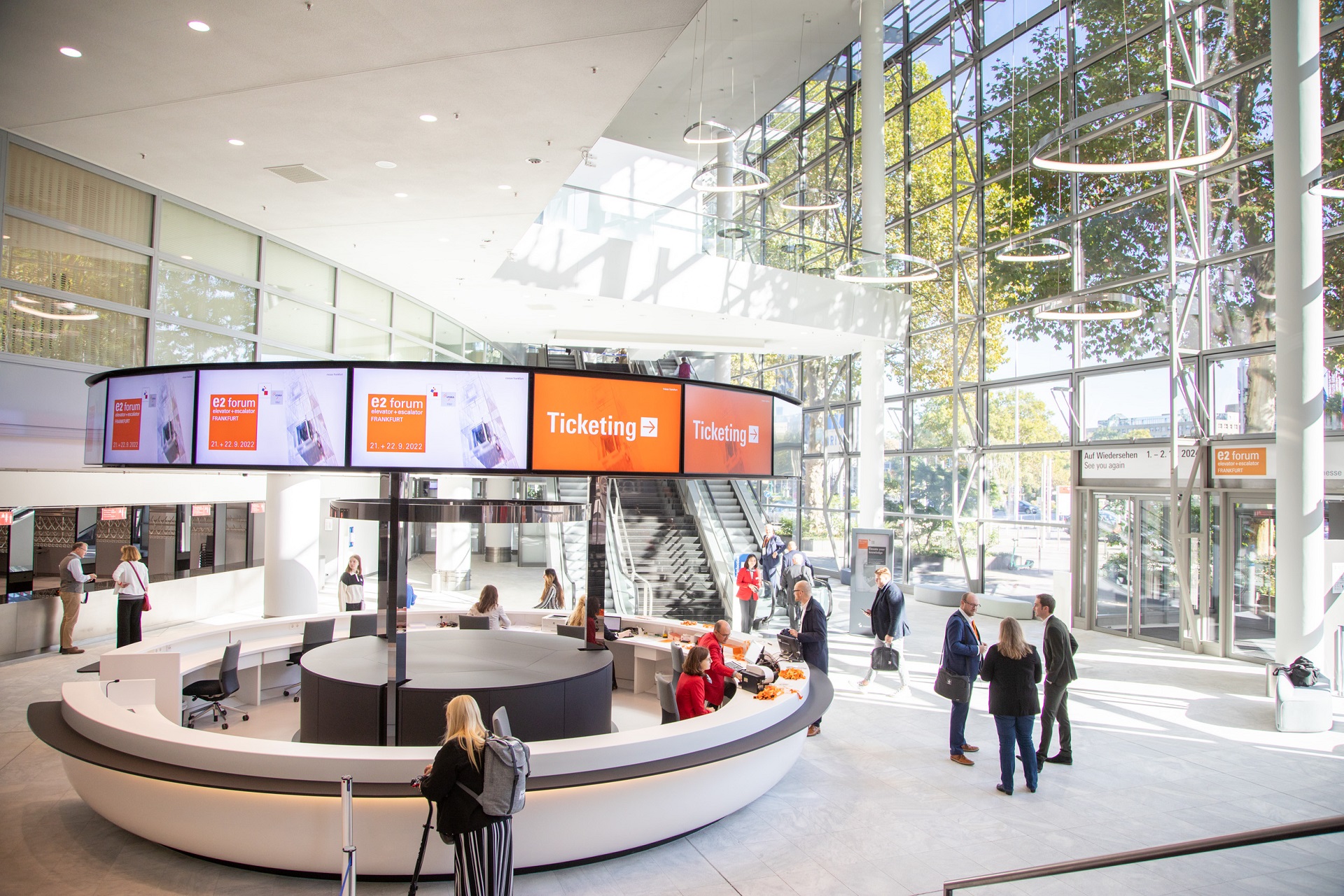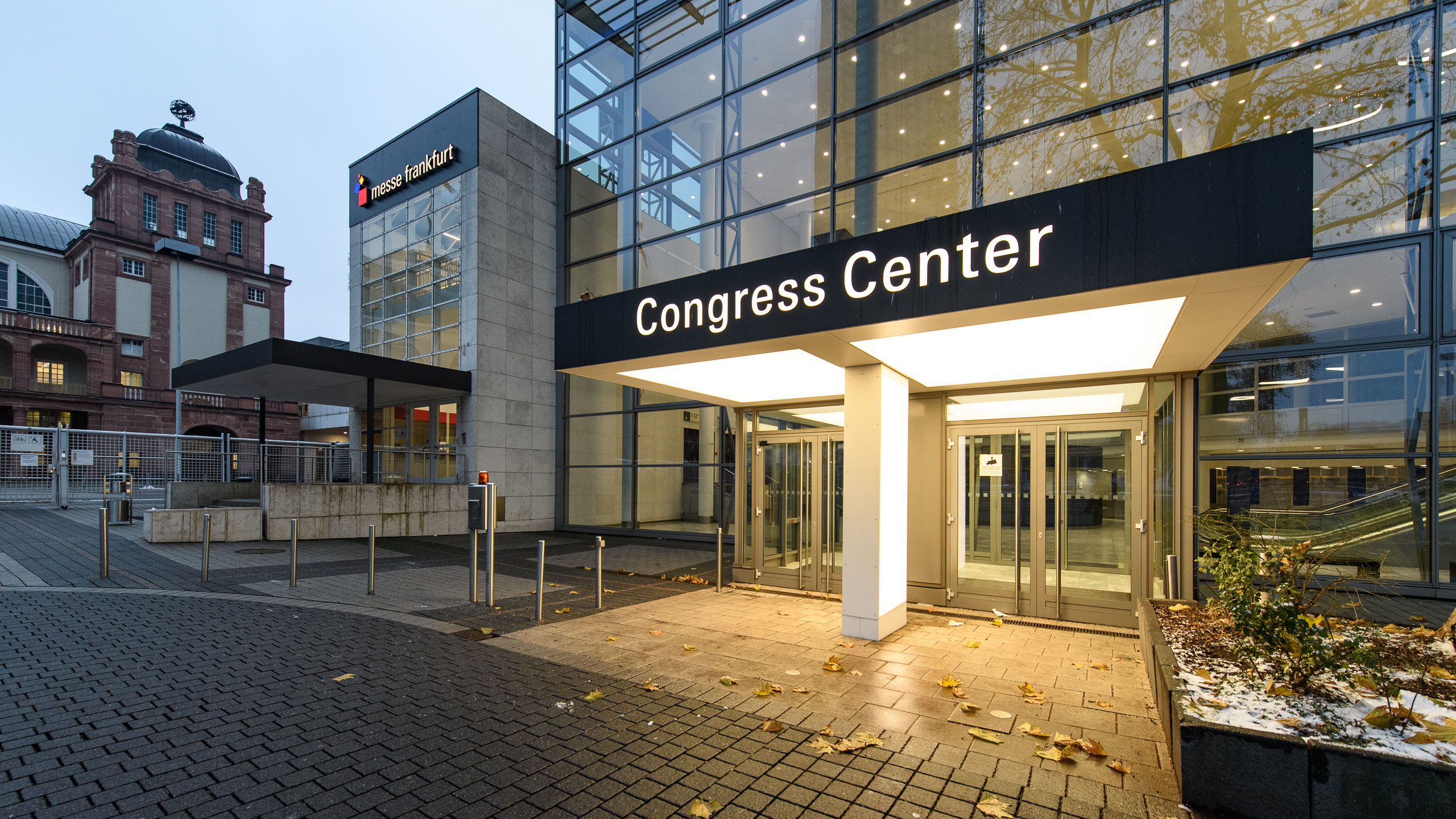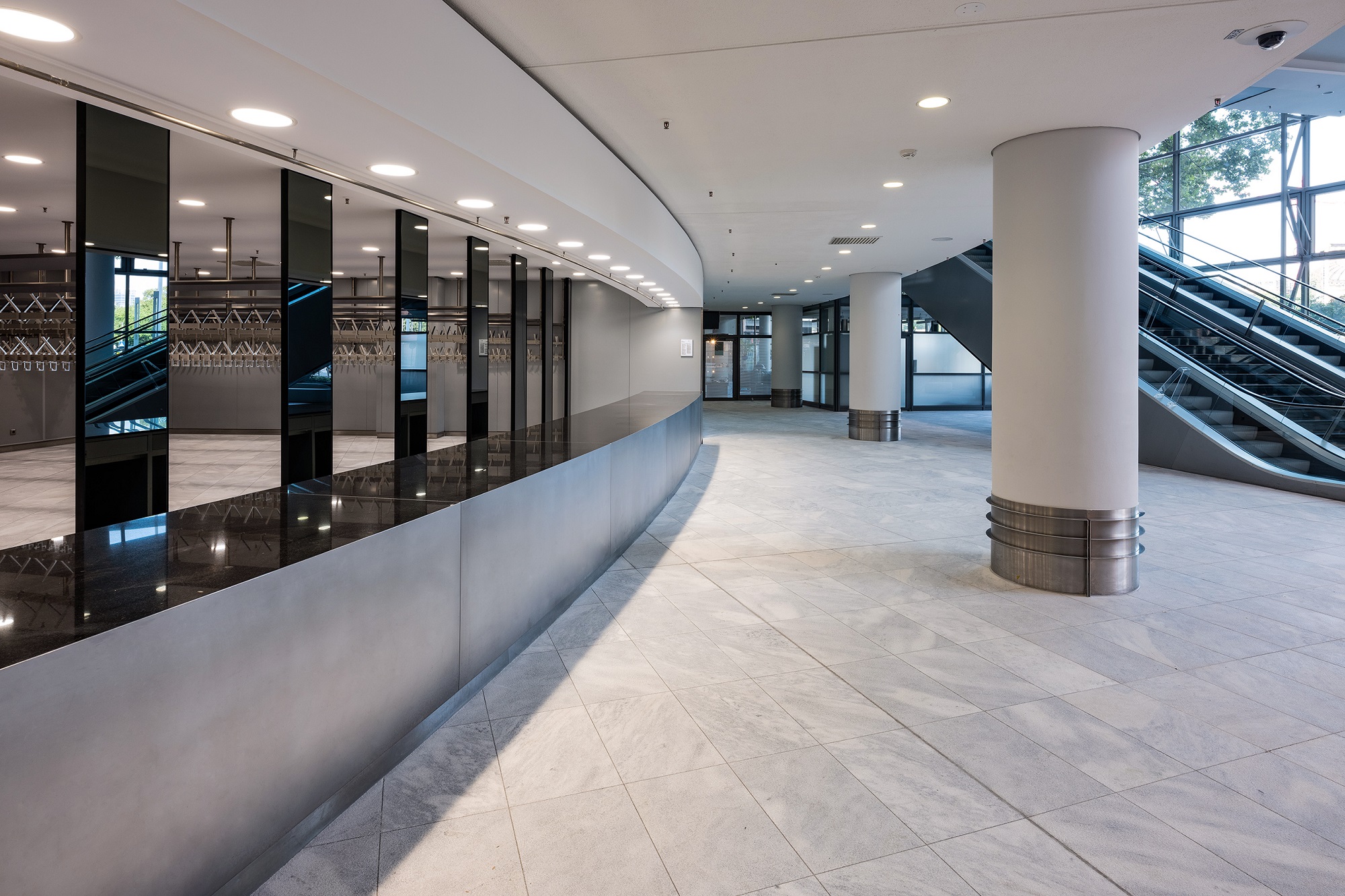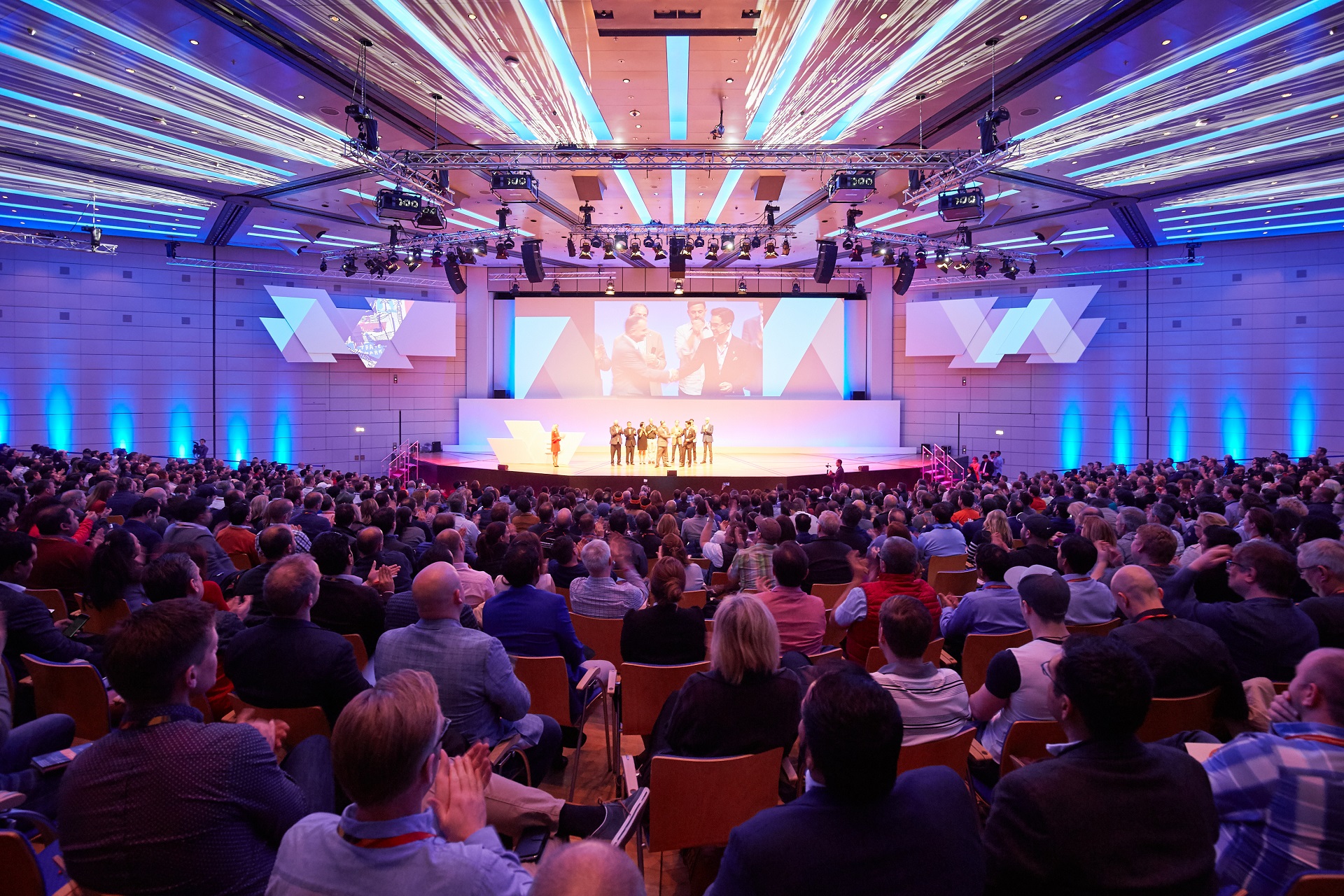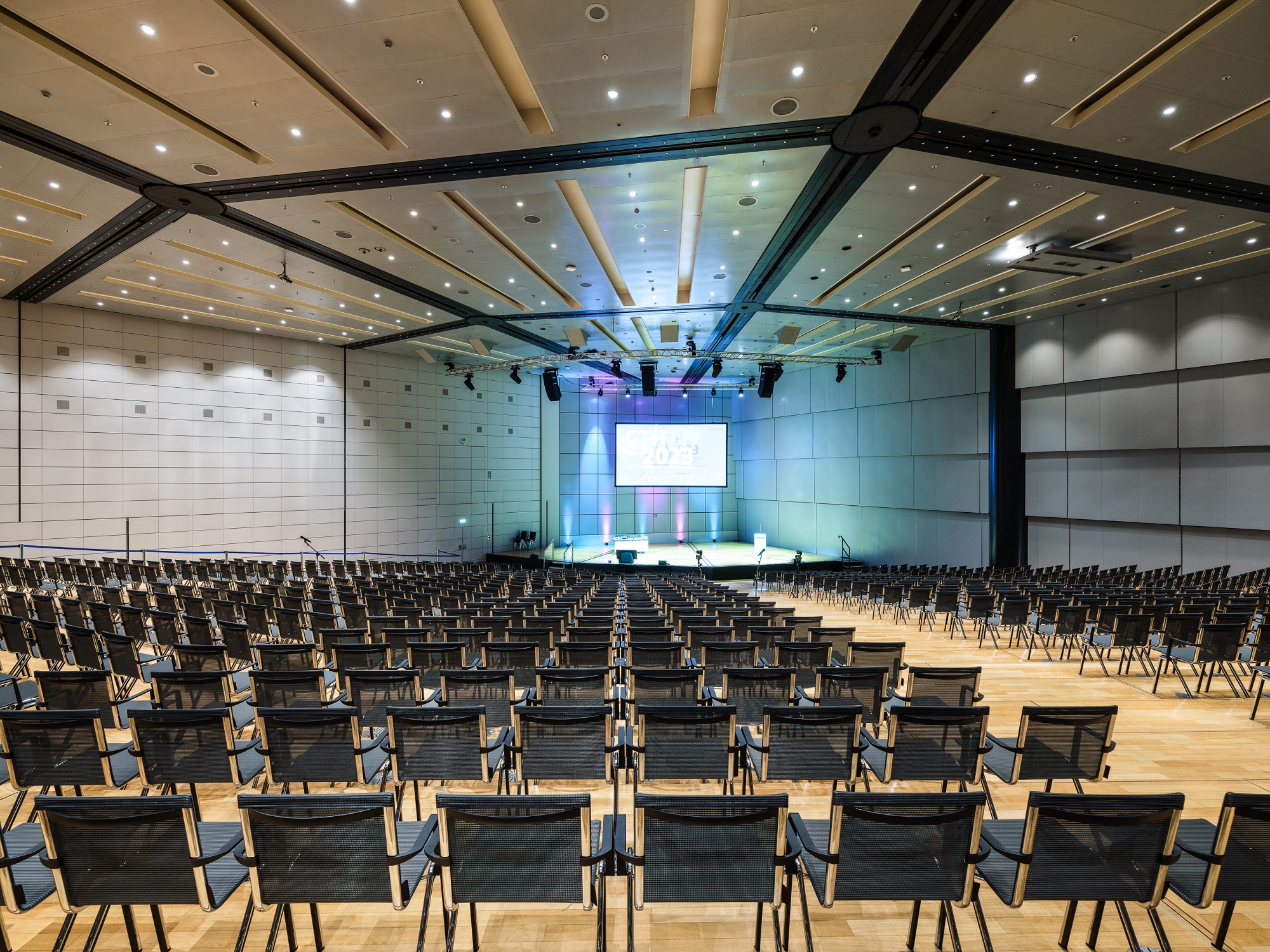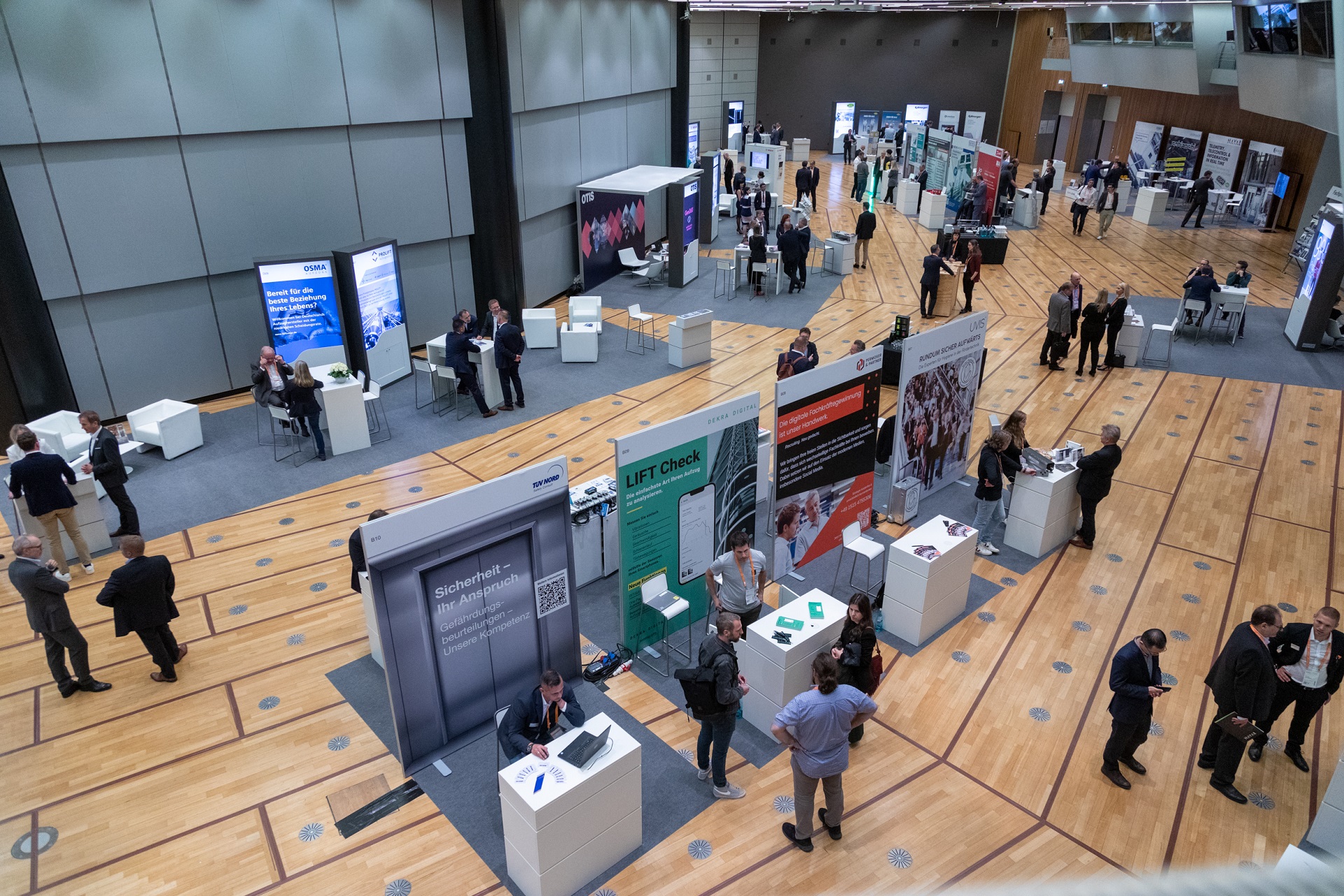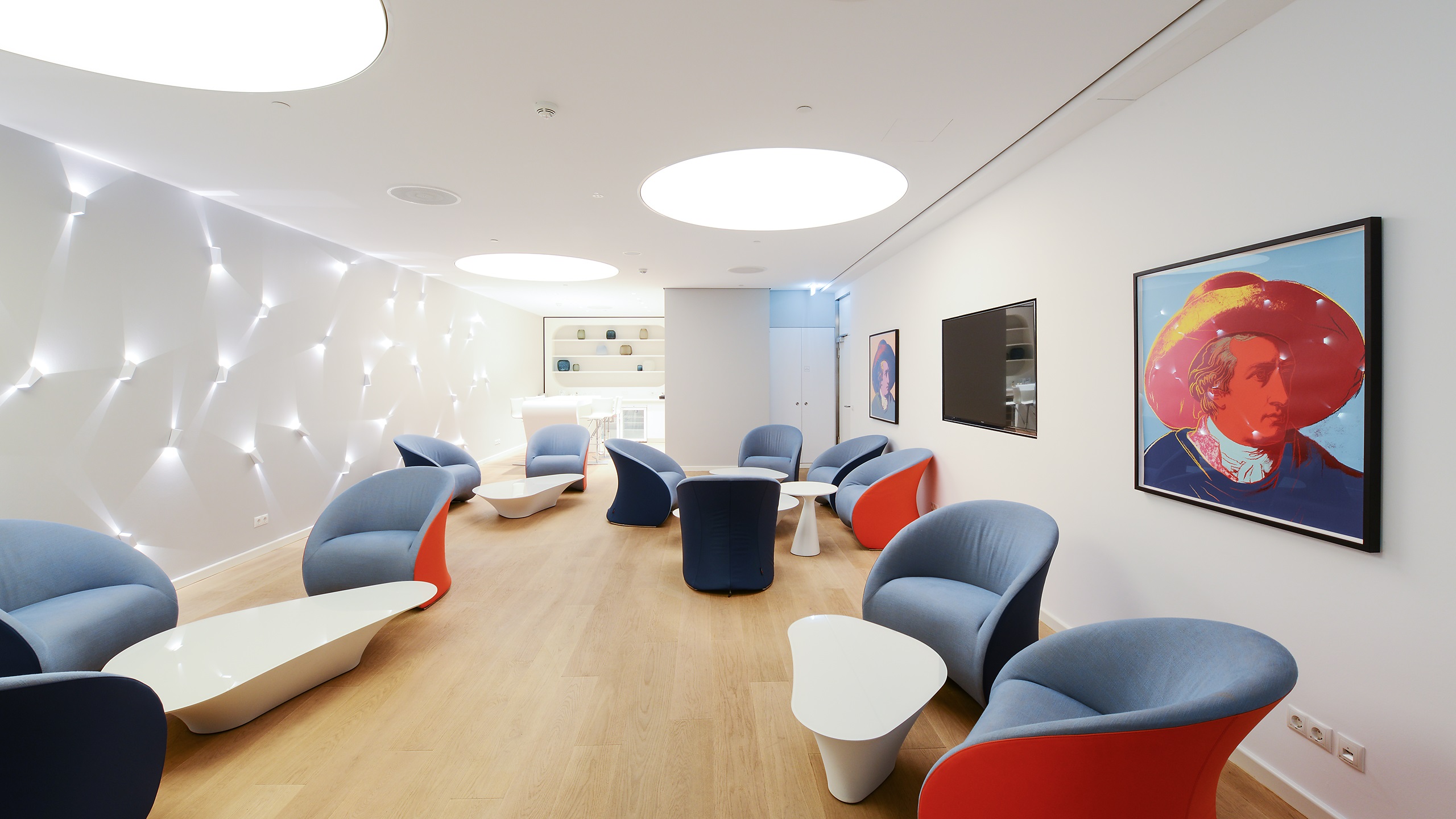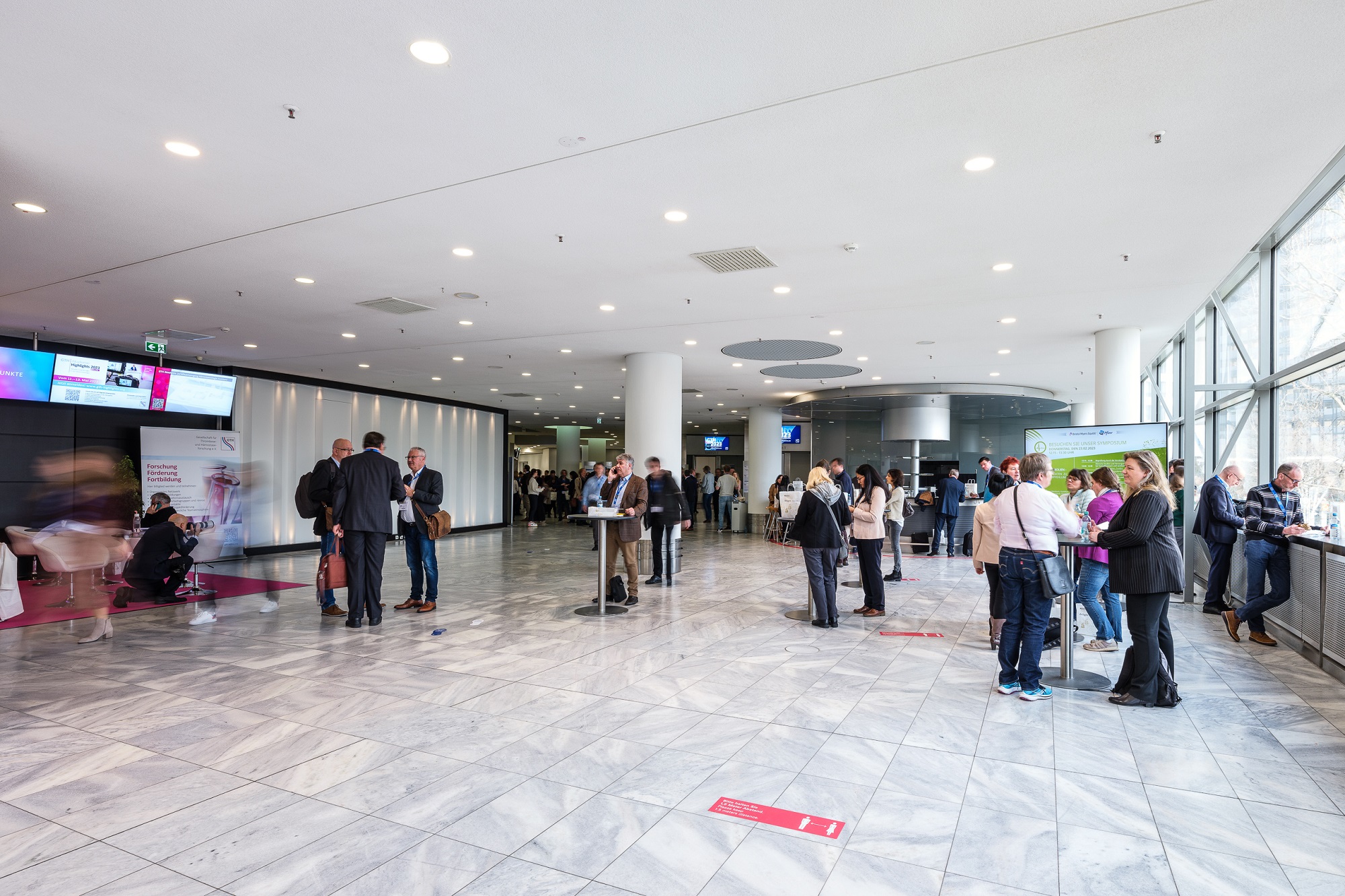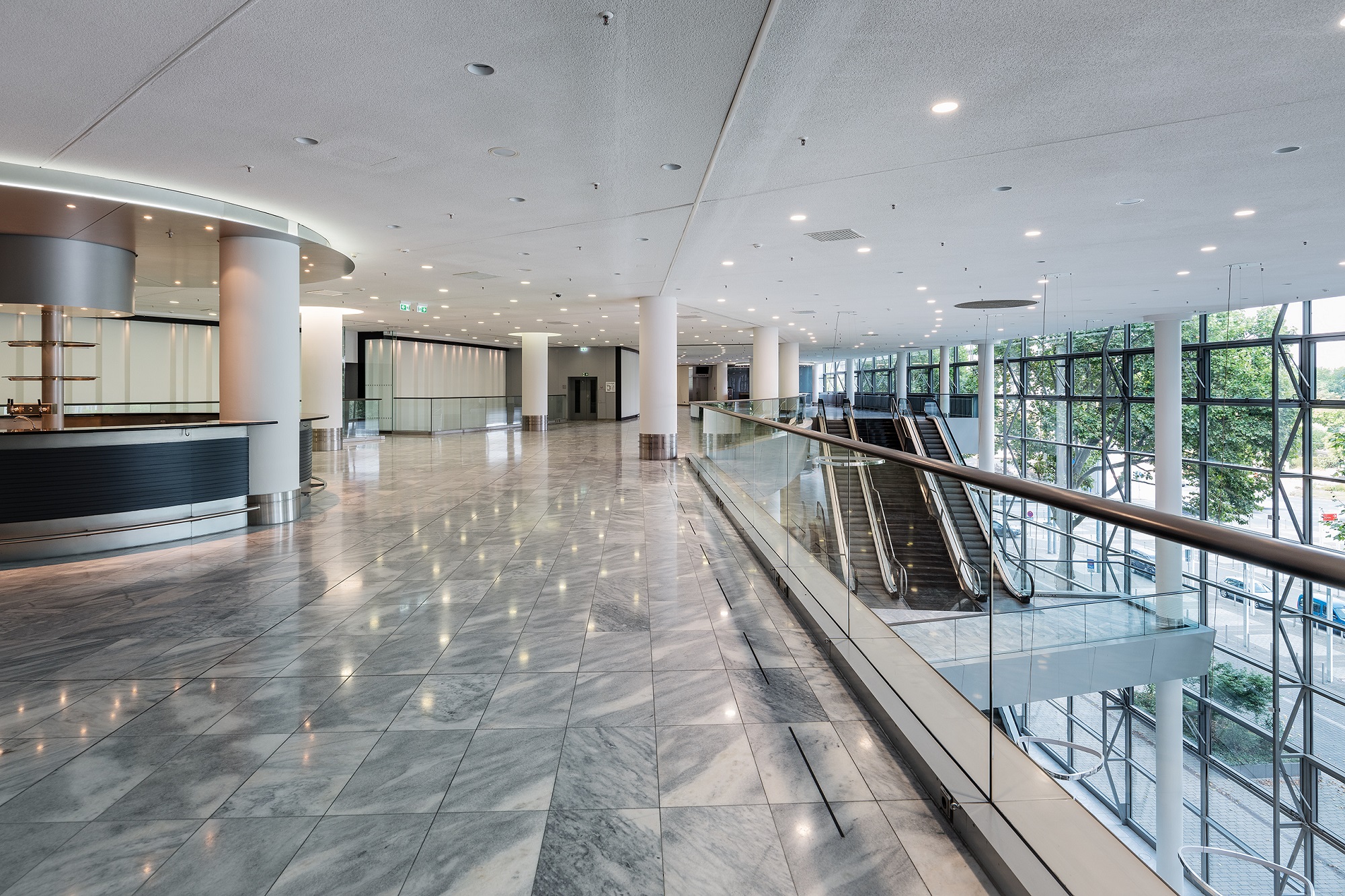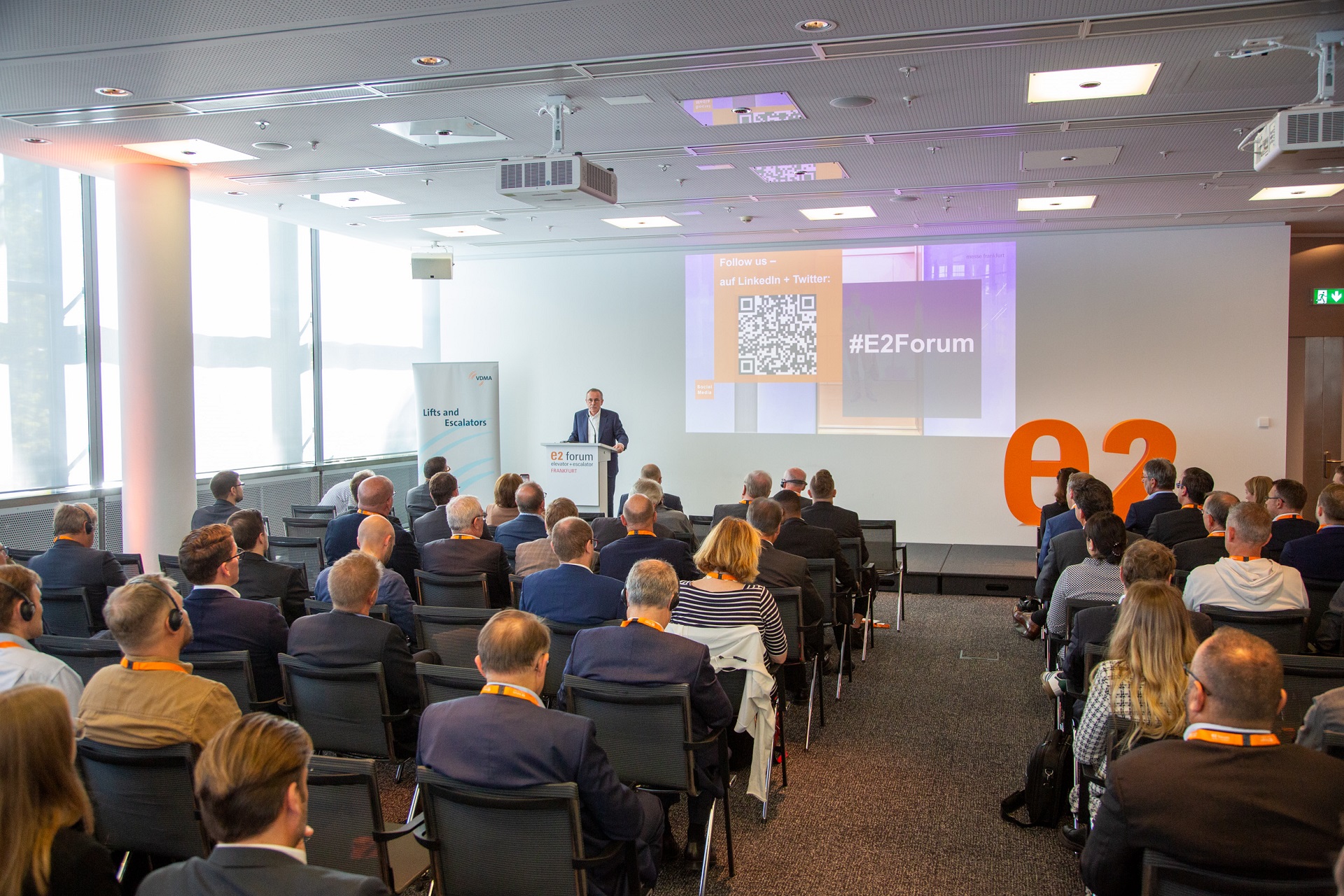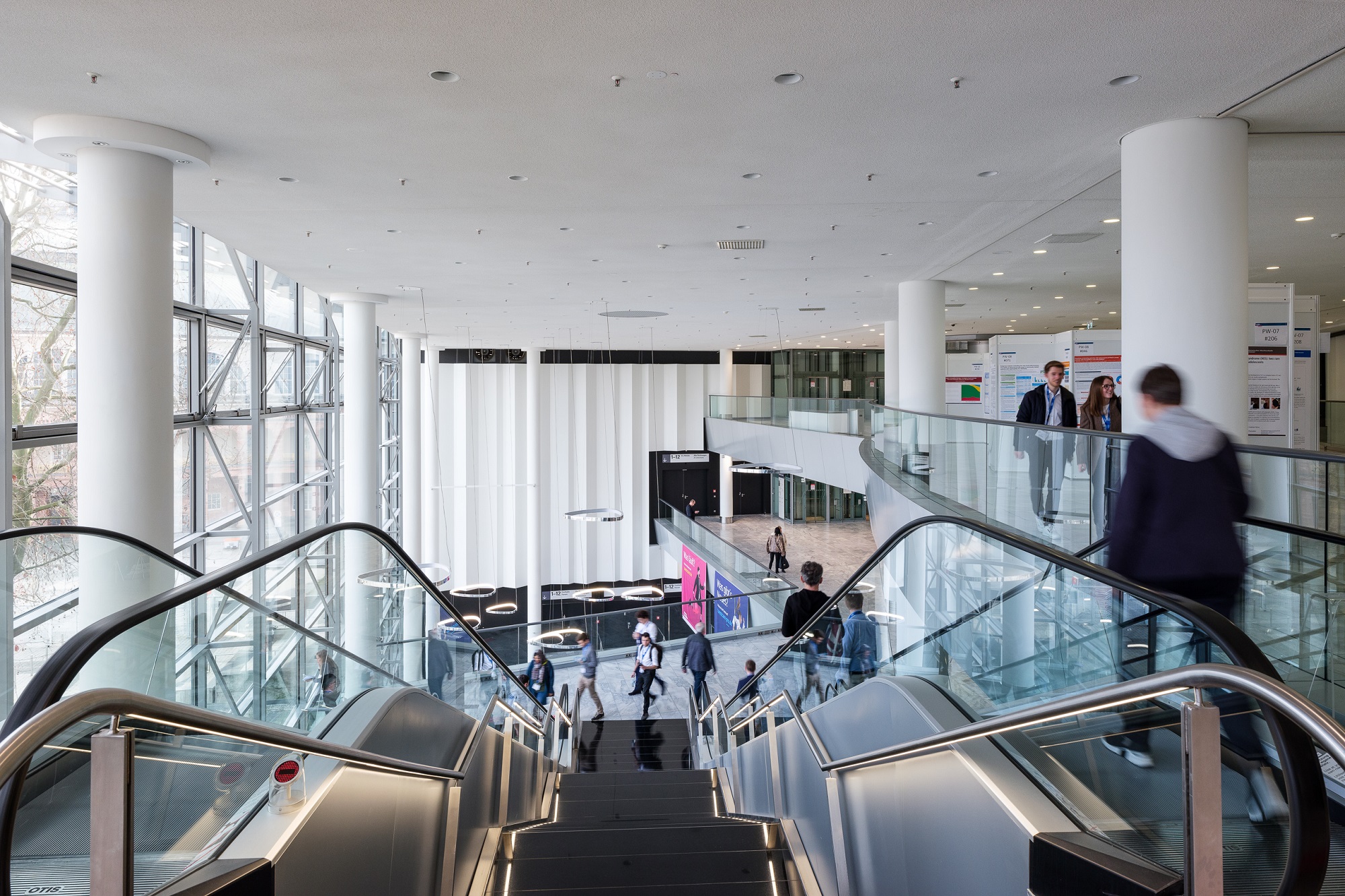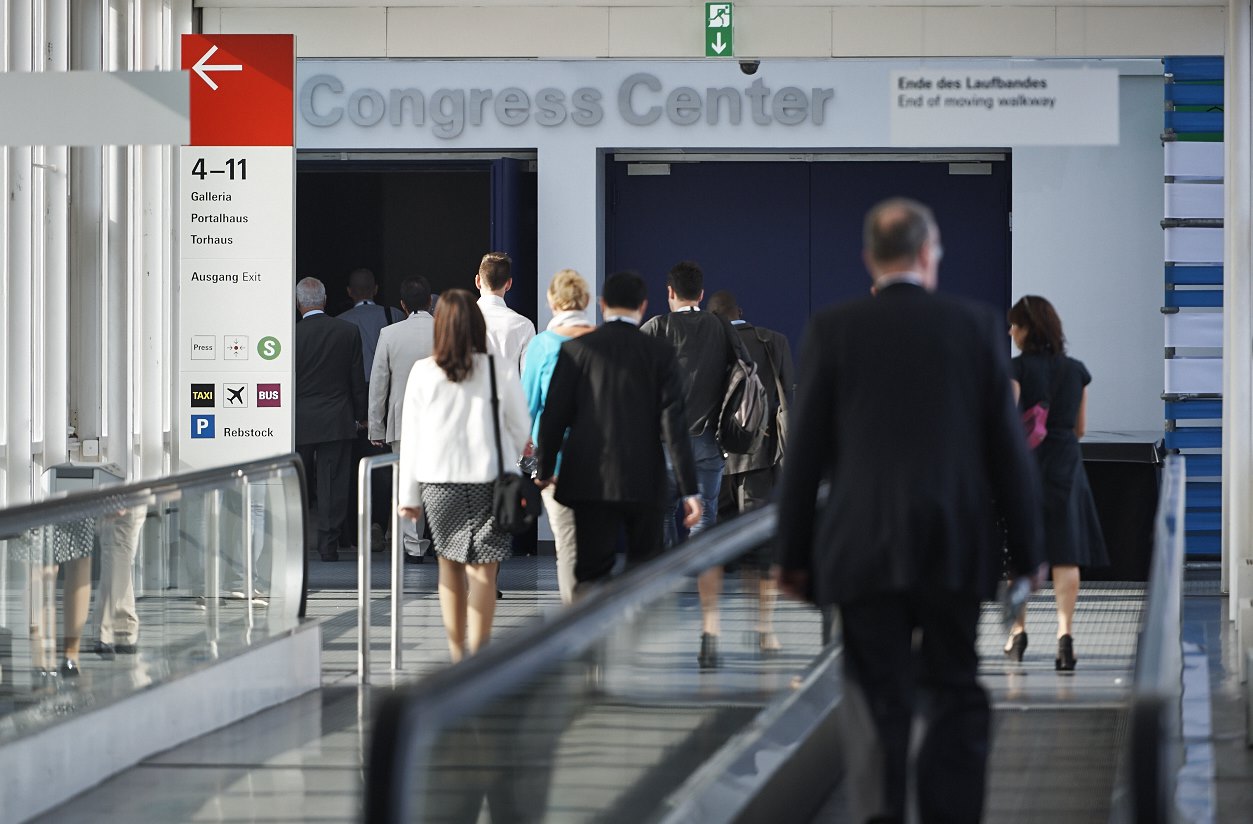 The building at a glance
Level C0 – Main foyer
Registration counter with 10 workstations
Cloakroom
Organisation office
Access to Maritim Hotel Frankfurt
Level C1 – Organiser rooms for briefings, debriefings or VIPs
4 offices for event organisers
3 conference rooms for up to 50 people
VIP Lounge (79 m²)
Level C2 – Congress level
Harmonie hall, flexibly divisible and tierable, up to 2,207 people and direct access to Hall 5 (20,000 m²), six interpreter booths
Spektrum, divisible, up to 283 people
Conclusio, divisible, up to 160 people
Foyer with two built-in bar counters
Access to the Via Mobile covered moving walkway that combines the Congress Center with the Forum and all halls on the exhibition grounds.
Level C3 – Numerous breakout variants or additional plenary hall
Fantasie, divisible, up to 283 people
Illusion, divisible into two parts, up to 473 people
Foyer with two built-in bar counters
Extras:
2 parking levels with 466 parking spaces directly in the building
WiFi included
Barrier-free lift access to all levels
32 monitors for individual event branding and visitor management
Have you found your location here?
Take advantage of our extensive event experience. As a strong service partner with a wide range of individual consulting and service options, we would be happy to provide you with an offer of exhibition spaceevent space and services tailored according to your wishes.