The Frankfurt exhibition grounds are a 'city within a city'. With an area the size of 90 football pitches containing eleven exhibition halls, more than 90 congress and conference rooms and 26 restaurants, services such as stand construction, visitor marketing and catering ensure that a large number of deliveries are needed – and not only when international flagship fairs are taking place. Thanks to the acquisition of three 'StreetScooter' electric transport vehicles, it will be possible to make some of these deliveries 'all-electric', without any vehicle emissions whatsoever. As Uwe Behm, Member of the Executive Board of Messe Frankfurt, puts it: "Now, carpeting, signage and even break-time snacks can be moved around the exhibition grounds in a climate-neutral manner by Messe Frankfurt's service partners. With the deployment of StreetScooters, the company has made an investment in the improvement of its ecological footprint."
Messe Frankfurt has been promoting electromobility for quite some time now. In 2011 the company purchased the first electric Mercedes Benz A-Class car, and has also utilised a hydrogen fuel cell vehicle on the exhibition grounds. Today, Messe Frankfurt's fleet boasts multiple electric cars, and Messe Frankfurt makes its charging infrastructure available to exhibitors and visitors at its trade fairs as well, with thirteen charging stations on the exhibition grounds.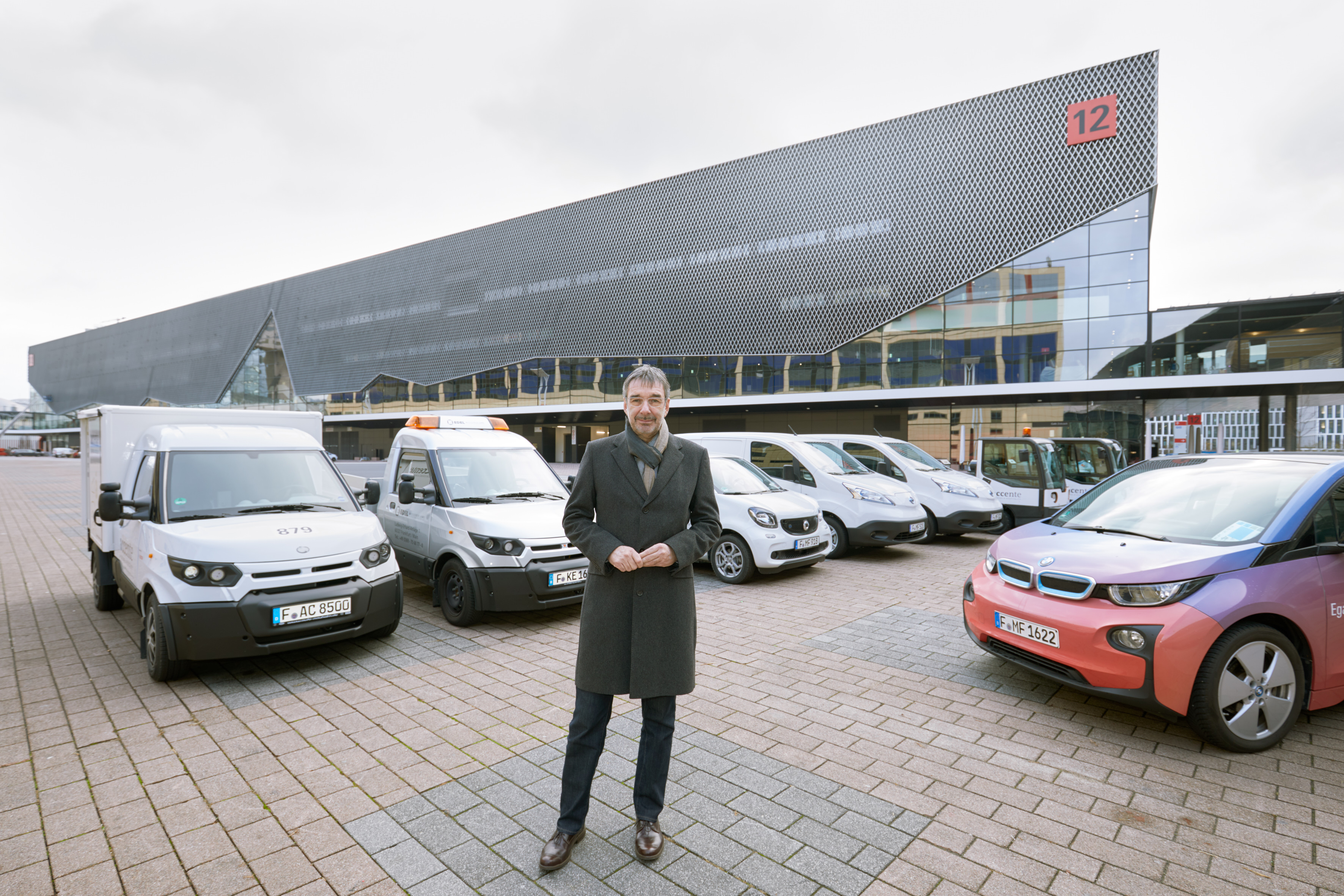 Messe Frankfurt's CSR activities also include increasing its renewable energy generation. With the completion of the new Hall 12, the company has installed its third – and largest – solar power system on the Frankfurt exhibition grounds, 5,300 modules generating 1,087 MWh every year. This corresponds to the requirements of 241 single-family homes. The photovoltaic systems on the roof of Hall 10 and the Rebstock multi-storey car park yield an average of 900 MWh of solar energy per year, enough to supply the needs of 200 households.
 
Background information on Messe Frankfurt
Messe Frankfurt is the world's largest trade fair, congress and event organiser with its own exhibition grounds. With more than 2,500* employees at 30 locations, the company generates annual sales of around €715* million. Thanks to its far-reaching ties with the relevant sectors and to its international sales network, the Group looks after the business interests of its customers effectively. A comprehensive range of services – both onsite and online – ensures that customers worldwide enjoy consistently high quality and flexibility when planning, organising and running their events. The wide range of services includes renting exhibition grounds, trade fair construction and marketing, personnel and food services. With its headquarters in Frankfurt am Main, the company is owned by the City of Frankfurt (60 percent) and the State of Hesse (40 percent).
*preliminary figures 2018